The Big Easy
NEW ORLEANS – Forty-four years ago this weekend, "May Day," the Yale campus exploded with student protests over the Viet Nam war and the trial of Black Panther Bobby Seale. I was so disgusted with the anger and outrage that I hitched home to Troy and worked to earn some extra cash humping quarters of beef off of reefer trucks at the Grand Union warehouse. All my youthful dreams, castles in the clouds, came crashing down with Abbie Hoffman and Jerry Rubin screaming obscenities at the crowd.
What difference four decades can make. Today I'm going again to the New Orleans Jazz Fest to hear the lovely commingling of America's voices, cacophony of our struggles, harmony of our freedoms, our love and our acceptance. This place, New Orleans, along the muddy water that drains our heartland, serves up all forms of variety with such joy and sass that everyone says hello, everyone is smiling and there's a dance in every step. What an absolute joy to be here away from the contention and the outrage of polemics.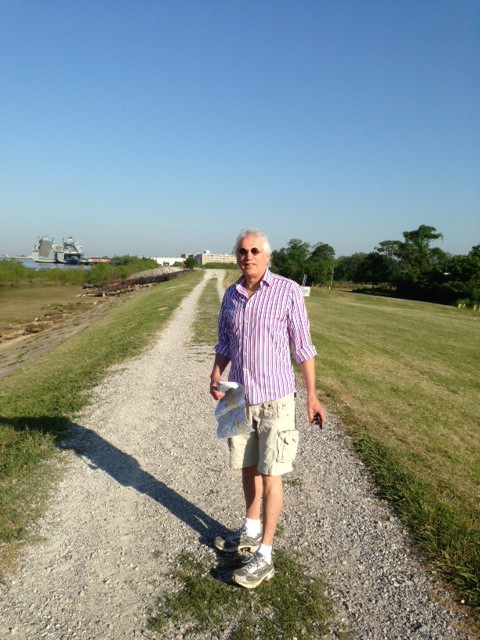 Yesterday morning Richard and I walked on the levee. The smooth water was flowing twelve feet below the path along the wall. Imagine a mile wide and twelve feet deep, the sheer volume of water! It took an ocean to raise that river high enough to spill over the levee and devastate whole parishes. But that's what happened and the damage is still everywhere.
We were walking home and got talking with an old African-American, Robert Smith, 79, on Dauphine Street, and he gave us a history of our neighborhood. His grandmother built the house he was raised in, next door to where he lives now, and he spoke of the racial division that was breached when some white people helped her acquire land in the 1880s. "Not all white people are bad," he informed us. He directed us to a building in the next block where the desperate survivors wrote on the roofing shingles that they believed in Jesus and were praying to Him so someone would bring them water. The message is still on the roof.
Mr. Smith's sweet account of neighborhood, butcher shop and market, ice cream parlor and shoemaker, was quite at variance with the ghost town now, but he's hanging on, and so are his children. He's proud of the ownership of property and that his family has been anchored to these two lots for so long, and he speaks of his three years in Texas when the houses were being repaired as an exile on the order of the Babylonian captivity.
The Jazz Fest crowd on this balmy Saturday streamed into the racetrack like Woodstock throngs, happy, casual, friendly and expectant. We went straight for the Savoy Family Cajun Band to juice up the morning with some revels sung in French. So happy and bouncy and joyful, the fiddle, the accordion and the lovely chanteuse in a cowboy hat and boots kicking out the beat.
Then we went over to the Acura Stage for the accomplished Alan Toussaint who's never missed this festival. He welcomed one-hit-wonder Jimmy Buffet who did a moving Jesse Winchester number, and then Alan sang his own immortal "Mother-in-Law." The three back-up girls were as lovely as the Supremes and they danced together and sang with transcendent smiles on their faces, smiles you don't see usually outside the gospel tent.
We wandered. I had some delicious crab and potato salad and raspberry iced tea, and talked with a flirtatious near-divorcee who introduced me to one of her triplet sisters. The other triplet couldn't make it, unfortunately so we couldn't see how identical they were, but she, Leah, was a only a fraternal triplet, so she didn't look like her sisters who were identical, but, thank God, their mother loved them all the same. Couldn't help thinking that it must have been crowded in there. Leah had a rock on her left ring finger the size of an ice cube so her divorce should go well.
Onward! As the Pine Leaf Boys treated us to more Louisiana music I ruminated about Mr. Smith that morning and, I suppose, the nature of happiness. Simplicity, of course, and family connections and a strong faith are key, but spontaneity and song and laughter are up there on the scale, too, and the open houses I've held recently with Joe Mele and Jeff Dooley and Tim Greenwood and Roland Gendron and Luke McNamee have left me singing and laughing and planning the next one. Music heals, I've found, and there's a song for every tragedy and every triumph. Can't wait to get back and play once more with The Nellies and Jeff's open mic at Brunswick BBQ and Zack at Daily Grind.
The headliners, Bruce Springsteen and Johnny Winter finished out the day. Bruce, of course, drew a crowd larger than bathers and waders to the Ganges. He assured the assembled, "We have swamps in New Jersey, too." Always thought his music enjoys the subtlety of a pile driver, but live it works. Great when you see the skinny nineteen year old girls in summer dresses and those little Sinatra fedoras raising their slender fists, "Born in the USA!" and other motorcycle dreams from the shores of Jersey.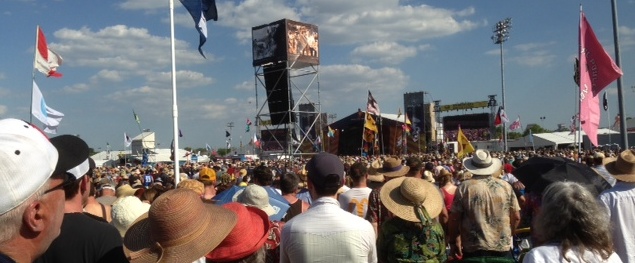 Johnny Winter, alas, must sit to play, but the old albino wizard still has the lightning fingers of his youth. Electric blues and rock. Loved his rendition of "Johnny B. Goode." Indeed.
Later into the French Quarter we went, I had six plump, delicious raw oysters and sat in the candlelight while Velvet, a Tarot reader, assured me all was well in the Life of Jack. Eerie in that square in the dark, the white cathedral and Andy Jackson on his horse with the hat raised, and the fortune tellers all about with their card tables.
We'd met this great guy Liam in the line the day before and he ran a club on Toulouse Street. One-Eyed Jack's. He promised to put us on the guest list, and sure enough, there we were on the guest list, and in we went to hear J.J. MacPhearson rock the crowd. This kid sang great rockabilly and told of his inspiration, "Try drinking expired cough syrup while you watch an episode of Frazier and a bunch of songs will come out." The guitar, stand-up bass, sax and drums rocked the crowd. About one-thirty we cut out. Bourbon Street was nuts with strippers and whores and one lovely who bared her tattooed breasts for a string of beads.
Today's a new day, Scarlett, and we have miles to go before we sleep. How can you choose between John Fogerty, Trombone Shorty & Orleans Avenue and Delbert McClinton, all of whom are appearing tonight to close down the festival?
Eric Burdon put it best: "You wanna find the truth in life? Don't pass music by."
— Jack Casey